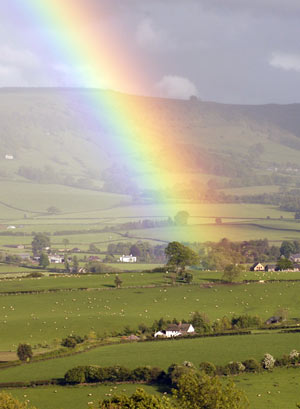 Hafod y Garreg Bed and Breakfast at the oldest house in Wales.

This Medieval grade 2 star listed house, built in 1402 is believed to have been built as a hunting lodge for King Henry 1V. Hidden in a hollow overlooking the Wye valley. This stretch of river is considered by many to be the most beautiful stretch of the river Wye, just walk in any direction from our gate and the landscape is a maze of footpaths and bridleways, not a soul in sight, a stress free retreat, there cannot be many places more peaceful and idyllic.
The house is reached by a long rustic drive. Access to the house is not suitable for the disabled as the ground is cobbled and uneven.
The atmospheric bedrooms have antique fabrics, early oak furniture, beautiful bed linen,cuddly dressing gowns, and stylish bathrooms with lovely toiletries.There is a silent fridge and tea and coffee making facilities, also a flat screen TV,s and free WI FI, hairdryers and a treat of a decanter of sherry.
Spoil yourself and have dinner in the candlelit dining room at the 16th century refectory table, or eat at one of the excellent local gastro pubs.
Breakfast is a huge affair, with free range eggs from hen that lay blue and chocolate brown eggs. Spring water comes straight from the tap.